Can you think of a more sizzling present for a bacon lover than a Bacon of the Month Club membership? We've rounded up the best selection of gourmet bacon companies offering the ultimate gift for your favorite bacon enthusiast.
With a monthly bacon subscription, your friends and loved ones can bring home the bacon every month! Perfect for birthdays, holiday and Christmas gifts, Father's Day or just because, bacon subscription boxes are the tastiest gifts that keep on giving!
Be sure to check out BENSA's other bacon gifts roundups, including our Holiday Bacon Gift Guide. (And don't miss our bacon-themed Amazon Store!)
This post may contain affiliate links. Please see our disclosure statement.
4 Things to Look For in a Bacon Subscription Box
If you've ever wondered, "what is the best bacon of the month club?" it really comes down to what you're looking for (and how much you'd like to pay). Here are some things to consider if you're planning to give a monthly bacon gift box:
Type of Bacon – Consider whether your recipient is a classic bacon lover who would appreciate one particular style, or an adventurous type who would enjoy trying different bacon flavors and seasonings.
Frequency – Do you want the bacon delivered monthly, every other month, or quarterly? As you'll see in the list below, there are plenty of options!
Length of Subscription – Would you like to have the bacon sent just once, for three months, six months, or a whole year?
Cost – The final price for a bacon of the month club gift varies widely, so check out the shipping details and fine print.
1. Amazing Clubs
With Amazing Clubs' Bacon of the Month Club, your gift recipient will receive a selection of two thick-cut artisan style bacon from gourmet butchers across the country. Choose from the three month offering, a seasonal plan, or an annual gift with 12 deliveries a year.
2. Bacon Freak
With Bacon Freaks "Bacon is Meat Candy" Bacon of the Month Club, choose 3-, 6- or 12-month shipments with two different packs of bacon sent in each shipment. The company's bacon is hand rubbed with spices, and comes in flavors like Hickory Smoked, Apple Cinnamon, Maple, Honey Barbecue, and more.
3. Bacon Scouts
Enjoy two monthly packages of Bacon Scouts' tasty bacon with Bacon Scouts Bacon of the Month Club. Your lucky recipient will receive one classic style like Hickory or Applewood smoked bacon, and one unique gourmet flavor. Past offerings have included flavors like Apple Cinnamon, Buttery Prime Rib, Chipotle Lime and more.
4. The Baconarium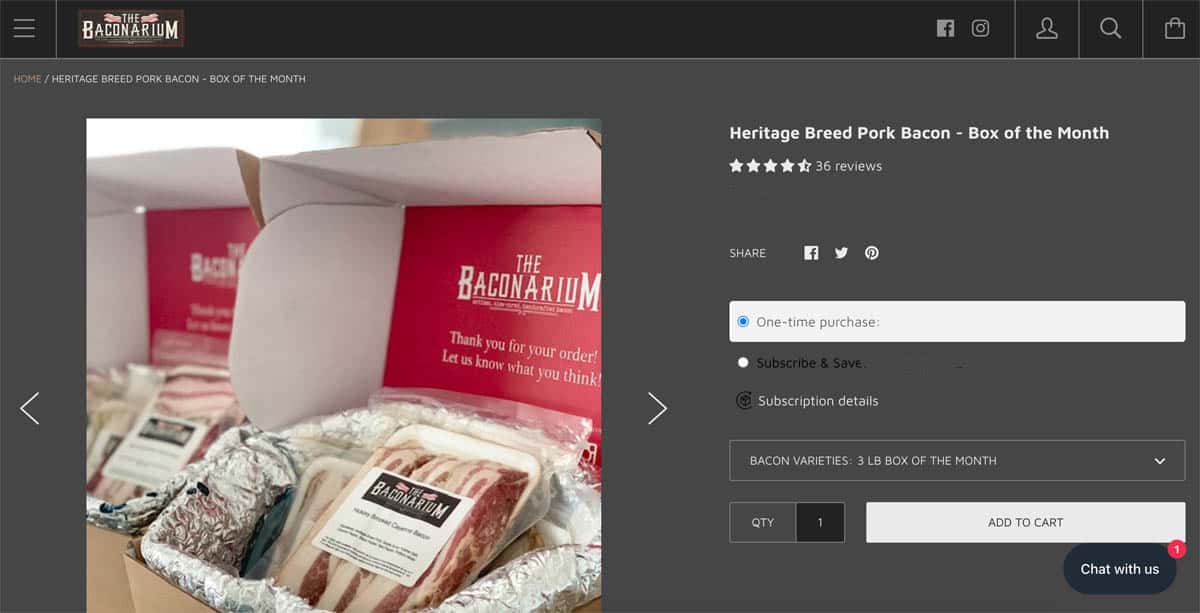 With The Baconarium's Bacon of the Month Club, your choice of bacon is automatically delivered to you either once a month, once every two months, or once every three months. You don't have to commit to a contract, and can cancel your subscription at any time.
5. Baker's Bacon
With Baker's Bacon Club Box, you'll receive 6 pounds of delicious Baker's bacon. You pick the frequency of the shipments — monthly, every other month, or every three months. Each box contains eight packages of bacon, including a surprise cut, plus a seasonal recipe.
6. Black Sheep Bacon
With a subscription to Black Sheep Bacon, you can arrange for the company's bacon to be shipped to your recipient's door every other week, every month, every other month, or quarterly. You can also choose the amount, ranging from four, eight or twelve pounds.
7. Dorothy Lane Market
Dorothy Lane Market's DLM Bacon Club, you can arrange for the company's delicious, responsibly sourced bacon to be delivered every two, four or six months. Each month your lucky recipient will receive two different varieties of the company's tasty bacon.
8. The Fermented Pig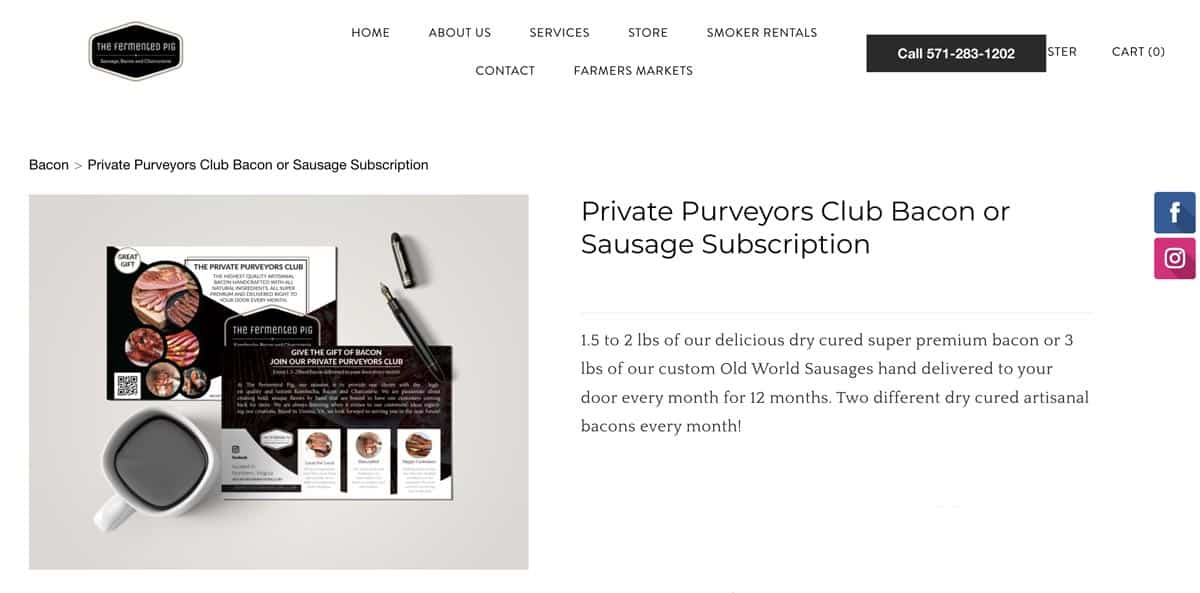 With The Fermented Pig's Private Purveyor's Club Bacon Subscription, your favorite bacon enthusiast will receive two different dry cured artisanal super premium bacon (1.5 to 2 pounds total) every month for one year.
9. Goldbelly
Goldbelly's Monthly Bacon Subscription can be arranged for 3 to 6 months, and each box will include approximately 2 to 5 pounds of bacon selected from top bacon producers.
10. Grandad's Market
The Grandad's Market Bacon Subscription Box ships either two or four packs of Grandad's most popular bacon flavors each month. You can choose from a 3-, 6- or 12-month subscription. Some of company's tasty bacon flavors include Bourbon Barbecue, Spicy Pepper and Garlic, Espresso, and Stout Beer.
11. Harris Teeter
Harris Teeter offers a 6 month Bacon of the Month subscription. Each month, your lucky recipient will receive two 12- to 16-ounce packages of artisan smoked bacon, accompanied by information on the bacon's background and flavor profile.
12. Heritage Foods
Heritage Foods Bacon of the Month Club features a different variety of heritage breed bacon shipped monthly. The box includes three packages, or about 3 pounds of tasty bacon shipped each month. Each box also includes details on the history of the breed and the farm.
13. High on the Hog
Choose your thickness and quantity with High on the Hog's Bacon of the Month Club. You'll receive 2 pounds (or more if you like) of the company's house cured and smoked bacon each month. You can choose regular sliced 1/8-inch bacon or thicker 1/4 inch slices.
14. igourmet
With igourmet's Artisan Bacon Subscription, each month your lucky bacon lover will receive a delicious selection of bacon from either a particular region or of a particular style. The subscription is available monthly, or for three, six or 12 months.
15. North Country Smokehouse
North Country Smokehouse's Bacon of the Month Club gives you lots of gift giving options. Choose either a six or 12 month term, and then you'll be able to choose four different bacon varieties such as Applewood Smoked Bacon, Peppered Bacon, Uncured Bacon, Cob Smoked Bacon, or Sugar Free Fruitwood Smoked Uncured Bacon. Each shipment includes bonus "smokehouse schwag."
16. Olympia Provisions
With Olympia Provisions Monthly Bacon Subscription, you can choose between a sliced 1/2 pound pack or a whole slab unsliced, which averages about 3 to 4 pounds. The company's tasty bacon is uncured and produced without nitrates or nitrates.
17. Pig of the Month BBQ
Pig of the Month BBQs Bacon of the Month Club features 2 pounds of tasty bacon delivered each month. You can choose from 3-, 6-, 9- or 12 month gifts, and each month the company will send two different flavored bacons.
18. Ted's Butcherblock
With The Bacon of the Month Club from Ted's Butcherblock, your recipient will receive a selection of bacon from small smokehouses around the country. Three, six, and 12 month subscriptions are available. The gift includes a certificate that you can email or print for your recipient.
19. Zingerman's
When you give the gift of Zingerman's Mail Order Bacon Club, each shipment contains 12 to 16 ounces of selected artisan bacon from companies like Nueske's, Benton's, and Vande Rose. The box includes entertaining bacon stories, histories and recipes, and the first shipment also includes the company's keepsake "Pocket Book of Bacon."
Did we miss any of your favorite bacon of the month clubs or monthly bacon subscriptions? If so, drop a comment below!