Bacon Wrapped Little Smokies are one of our favorite party food recipes, especially when we're in the mood to hog all the compliments (no pun intended) at the buffet table.
Another name for this appetizer could be "Meat Wrapped Meat." Savory little smokies sausages are wrapped in bacon, cooked to crispy perfection, brushed with barbecue sauce and broiled until they're lightly glazed.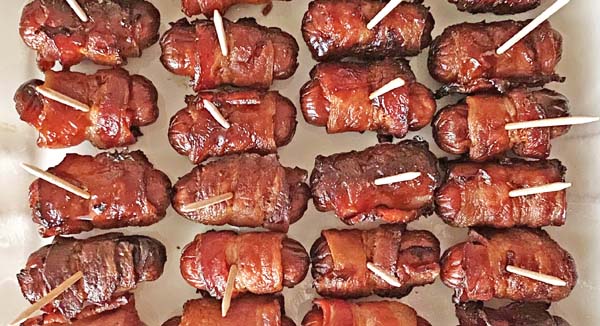 We love making bacon finger food for a party, like our Beer Candied Bacon, Heart Bacon Appetizers and Bacon Deviled Eggs. Be sure to check out BENSA's full collection of Bacon Recipes!
Take a plate of these smoky bacon wraps to your next picnic or potluck, and bask in the bacon-infused love from your friends.
The Best Bacon for Wrapping
Thin-sliced bacon is perfect for this recipe. By the time the bacon bakes in the oven to a crispy, golden brown, the juicy sausages are perfectly cooked.
Ever wondered how many slices are in a pound of thin-sliced bacon? The number is usually between 20 and 24. See? You really do learn something new every day.
Center cut bacon is especially ideal for this recipe, and that's what I used for this batch because I wanted it to photograph well. Each short piece covers 2 Little Smokies sausages (with a few trimmings that I fry up for bacon bits).
Regular bacon works just fine, but the end pieces can be a little unpredictable in terms of curling and shrinkage. Feel free to use whatever bacon you prefer!
Best BBQ Sauce for Little Smokies Wrapped in Bacon
Whether you like your barbeque sauce tangy, sweet, or spicy, anything goes with this recipe so choose your favorite!
Tomato-based, vinegar-based or mustard-based barbecue sauces will all taste fantastic, and each will bring out distinctive flavors of the savory sausage links and bacon strips.
Want more saucy ideas? Here's a guide to 12 regional barbecue sauce styles.
Assembling the Appetizers
The preparation couldn't be easier. Just wrap the bacon around the sausages leaving an overlap of about 3/4 inch for shrinkage during cooking. Arrange on the baking sheet seam side down. You don't need to secure with toothpicks at this point (unless you want to).
Bake in a 350 degree F oven until browned and crispy. The total time will vary depending on your bacon's thickness, but in my oven it took about 35 minutes.
Remove from the heat, turn your oven to the Broil setting, and brush the little smokies with barbecue sauce.
Return to the oven and broil just until sauce bubbles, about 1 minute or so. Remove from oven, cool on a rack for at least 5 minutes, and insert toothpicks before serving.
How to Grill Little Smoky Bacon Wraps
If you want to grill these tasty bacon hors d'oeuvres, just put them on a greased foil pan and cook them over medium heat.
Check and turn frequently until they're golden brown. Remove from the oven and brush with your favorite barbeque sauce. Return to the oven, cook a minute or two longer, and serve.
How to Store and Reheat Bacon Wrapped Lil Smokies
We've never had any leftovers and you probably won't, either. But if you do, you can tightly wrap the appetizers and refrigerate for 2 to 3 days.
To reheat, spread on a baking sheet and cook in a preheated 350 degree F oven for 8-10 minutes, until sizzling.
Here's the easy recipe, which is adapted from the cookbook 101 Things To Do With Bacon by Eliza Cross (Gibbs Smith, Publisher).
Bacon Wrapped Little Smokies
Lil Smokies sausages are wrapped in bacon, baked until golden brown and glazed with BBQ sauce for a sweet savory appetizer that's sure to be the first to disappear at your next party.
Ingredients
1

14-ounce package beef cocktail wieners

1

pound

regular sliced center-cut bacon

1/3

cup

barbecue sauce of your choice
Instructions
Preheat oven to 325 degrees F. Line a large baking sheet with parchment paper.

Wrap each cocktail wiener with a piece of bacon and arrange on the baking sheet seam side down.

Bake, turning several times, for about 40 minutes, or until the bacon is crispy and brown.

Remove from the oven and turn on the broiler. Brush the bacon-wrapped little smokies all over with barbecue sauce. Return to oven and broil for about 1 minute, until barbecue sauce bubbles.

Remove to a wire rack and cool on pan for at least 5 minutes. Skewer with toothpicks, arrange on a tray and serve.
Notes
To store: Tightly wrap any leftovers and refrigerate for 2 to 3 days.
To reheat: Spread the bacon-wrapped Little Smokies on a baking sheet and cook in a preheated 350 degree F oven for 8-10 minutes, until heated through and sizzling. ?
Nutrition
Serving:
1
serving
Calories:
484
kcal
Carbohydrates:
9
g
Protein:
31
g
Fat:
32
g
Saturated Fat:
11
g
Polyunsaturated Fat:
19
g
Cholesterol:
96
mg
Sodium:
1545
mg
Sugar:
7
g
If you enjoy this recipe for Lil Smokies sausages wrapped in bacon, we'd be thrilled if you clicked the little stars above and gave the recipe a 5-star rating.
Are you on Pinterest? You can save or share the recipe with this handy pin:
Let's stay together! We love connecting with bacon lovers on social media:

We'd love to share your bacon photos and culinary creations! If you make these Bacon Wrapped Lil Smokies appetizers, tag us at @bensabaconlovers or use the #BENSA hashtag!
Enjoy!
~Your friends at BENSA