These are our latest picks for the annual BENSA Bacon School Shopping Guide. From bacon backpacks to tasty jerky snacks, you'll find all the latest things you need to return to school with a smile on your face.
As summer winds down and kids of all ages head back to school, BENSA's timely product round-up will help your favorite bacon lover enjoy a sizzling year of scholastic success:
Bacon and Eggs Backpack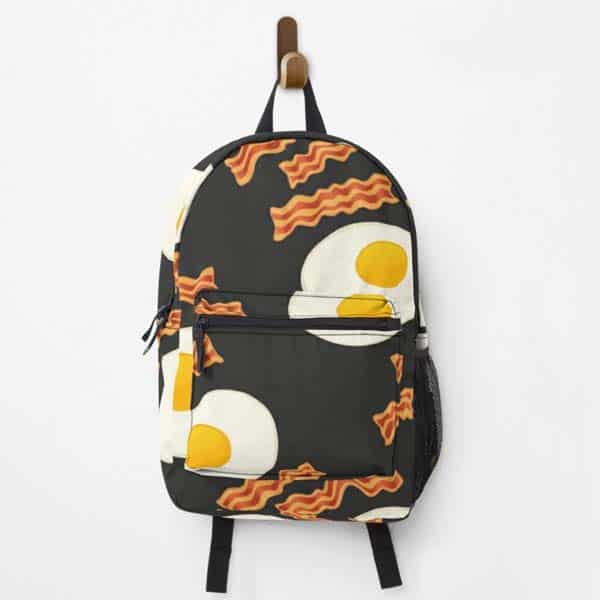 Make a great impression on Day 1 with this sturdy 100% polyester bacon and egg-themed backpack. With comfortable straps and an internal laptop pocket, this bacony bag will help you carry your books in style. From Redbubble.
Bacon Notebook
Featuring the periodic table for the element "BaCoN," this bright red notebook instantly identifies your student as a serious bacon lover. From Zazzle.
Bacon Pencil Case
Corral your writing implements in style with this bacon-patterned pencil case. From Etsy's PBJKreations.
Bacon Book Bag
Take 'cool' to a whole new level when you tote your textbooks in this bacon book bag, The 13-inch bag is from Look Human.
Bacon Sports Bra
Add some sass to your gym class with Swinn's bacon sports bra, From Amazon. 
Bacon Tape
Perfect for art projects and on-the-spot wardrobe malfunction repairs, this handy bacon tape is from Amazon.
Bacon Jerky Snacks
Liven up your lunchbox or tuck a bag away for a tasty afternoon snack, Jack Link's savory hickory smoked Bacon Jerky will help any student power through the day. 2.5 ounce bag is from Amazon.
Happy school daze, and if you find any other scholastic bacon products be sure to send 'em our way!
~Your friends at BENSA