This fried cabbage with bacon recipe elevates the humble cabbage to a whole new level of flavor!
What I love about this recipe is that the cabbage is fried quickly so it retains its fresh green color, with a texture that's crisp-tender to the bite. As the cabbage cooks down, it absorbs all the delicious flavors from the bacon drippings and becomes even more tasty. A little garlic added at the end makes this dish even more flavorful.
This tasty side dish is also Keto-friendly. Just make sure to use one of the low-carb bacon brands with no added sugar.
Is there anything better than showing up to a potluck with the most popular offering? This dish totally fits the bill, and if you're a bacon lover you might also enjoy some of our other extra-tasty bacon side dishes like Baked Asparagus with Bacon and Parmesan Cheese, Bacon Wrapped Sweet Corn, Bacon Macaroni and Cheese and Bacon Deviled Eggs.
Ingredients and Substitutions
You only need five ingredients to put together this tasty, flavorful dish.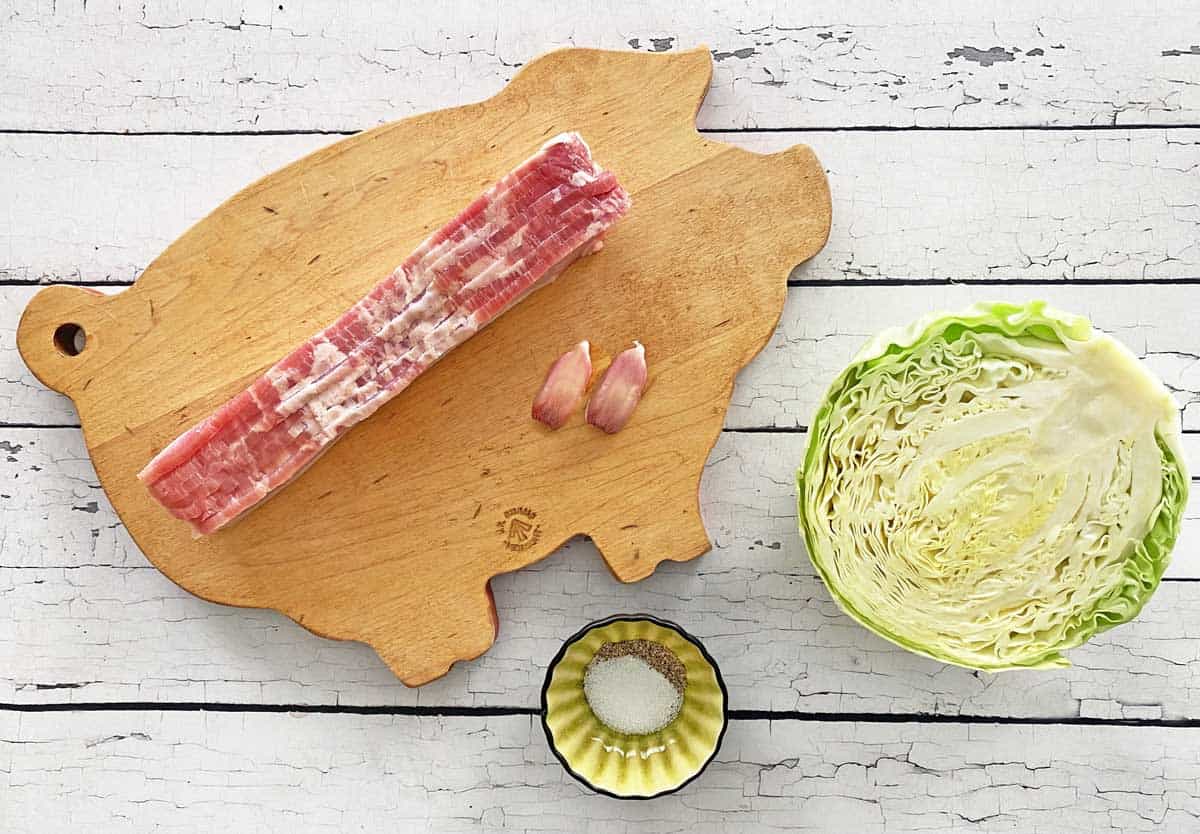 8 strips thick-sliced bacon – The thicker slices will hold up to the hearty cabbage, but if you only have regular sliced bacon feel free to use that. After much experimenting, we think that 8 thick strips will give you the perfect ratio of bacon to cabbage flavor. But feel free to add more or less, depending on your taste buds.
Half a large head of cabbage – We prepared this recipe with regular green cabbage. Look for a large, heavy head with tightly packed, healthy looking leaves. Red cabbage is a fine substitute. Feel free to experiment with savoy cabbage, which has ruffly leaves and will have a similar flavor in this recipe. Napa cabbage will also work. Its light green leaves are long with a ridge running down the center, kind of like Romaine lettuce. Because the heads are smaller and the leaves are less tight, you may need a full head of napa cabbage.
1 tablespoon unsalted butter – Feel free to use salted butter if that's what you have on hand. Just taste the mixture before seasoning it with salt and pepper so it's not overly salty.
2 cloves garlic – You can add more or less garlic depending on your tastebuds. Peel and finely mince the garlic before adding it.
How to Cut a Cabbage in Half
Place the head of cabbage stem side down on a cutting board and check to see if the bottom is stable and stays in place.
If the bottom is wobbly, turn the cabbage sideways and cut a thin slice off the bottom using a sharp knife. Turn the head of cabbage so the stem side is down and it stays firmly in place.
With a large sharp chef's knife, cut the cabbage in half across the middle and down through the core.
Equipment to Make This Recipe
You don't need any fancy equipment to make this bacon fried cabbage. Here's what we used:
Cutting board – We love our pig-shaped maple wood cutting board, and another favorite that's perfect for cutting something large (like a cabbage!) is this non-slip cutting board.
Sharp knife – The trickiest part of this recipe is cutting the round cabbage in half. Use a long knife that's just been sharpened and the task will be much easier.
Large nonstick skillet – A nonstick finish is nice for this recipe so that the browned bits are incorporated into the cabbage-bacon mix, but you can also use a large cast iron skillet if you prefer.
Large spoon – For stirring the cabbage and serving. Some nonstick pans get scratched if you use a metal spoon, so you may prefer to use a spoon made of silicone, wood or bamboo.
The Easy Cooking Process
Chop bacon in 1/2 inch pieces.
Cook chopped bacon in a large skillet.
Drain the bacon and pour out the liquid grease while retaining the drippings.
Melt a tablespoon of butter in the skillet and add cabbage and reserved bacon.
Cook cabbage for 3 minutes. adding the garlic after 3 minutes.
Add the garlic and continue cooking until cabbage is crisp-tender.
Season with salt and pepper and serve.
Enjoy this dish for an Irish dinner with corned beef, or go the Southern direction and pair it with barbecued ribs or fried chicken. You can also enjoy it for breakfast with eggs and toast. Try it, you'll like it!
Carb Content of Fried Cabbage and Bacon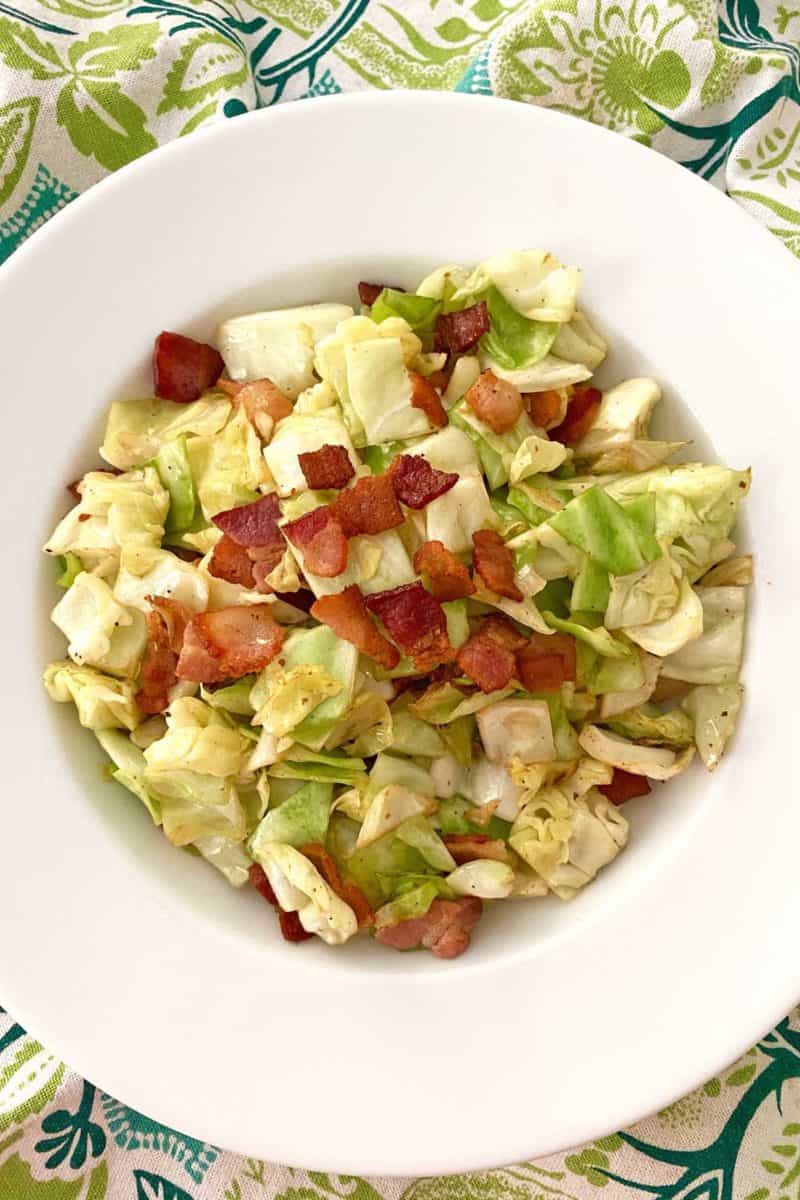 One serving of this recipe prepared according to the directions contains approximately 2 carbohydrates, making this a very Keto-friendly dish.
The only variation you might find in the carb numbers would be due to the way your particular bacon brand is cured and processed. Some brands are processed with sugar, which will result in more carbs.
To ensure that your bacon is low in carbs, Dona's Kitchen has compiled a list of 5 best bacon brands for Keto.
Step by Step Instructions
Begin by cutting a large head of cabbage in half, and slicing it in 1-inch slices.
Then chop it in 1-inch pieces: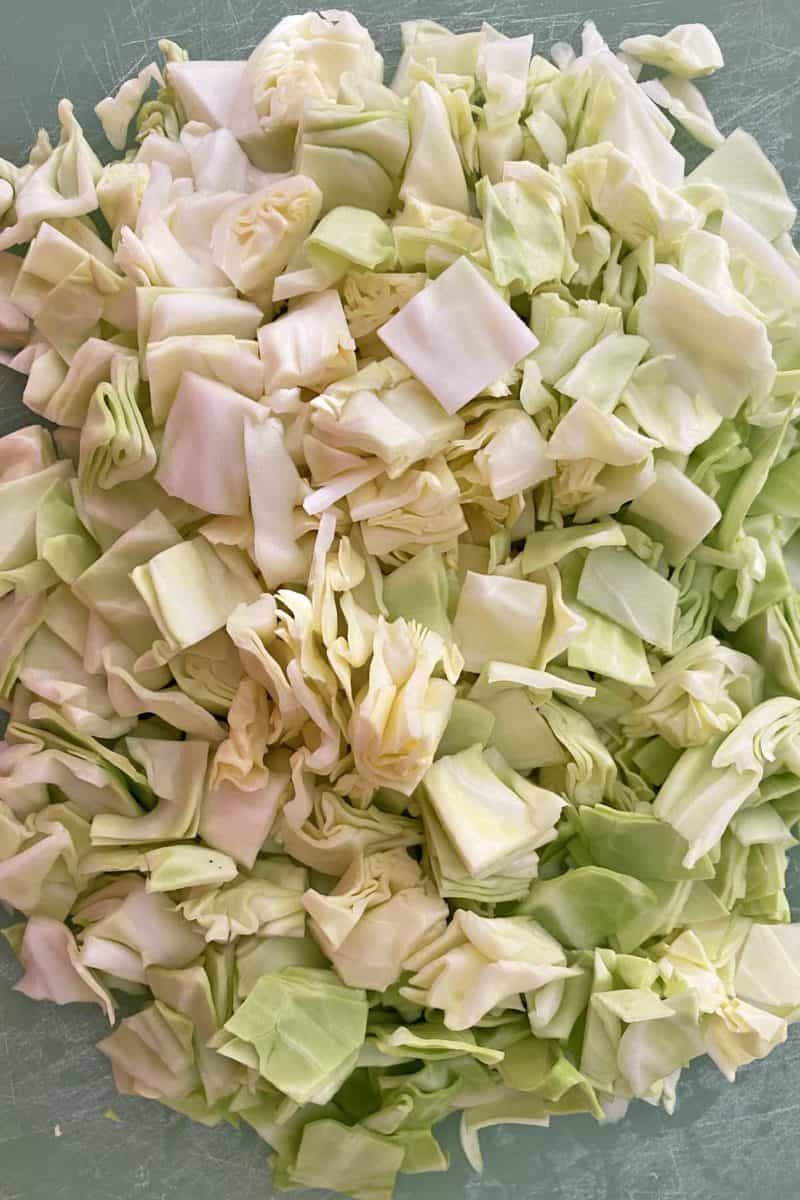 Next, chop eight slices of thick-sliced bacon.
In a large skillet over medium-high heat, fry the bacon until it's almost fully cooked, but not quite.
Drain all of the grease, leaving the crispy drippings in the pan. Return to the stove, add the butter to the pan and heat over medium-high heat until the butter bubbles. Add the chopped cabbage and cook over medium heat, stirring frequently, until cabbage is tender, about 10 minutes.
During the last 2 minutes of cooking, add minced garlic, salt and pepper.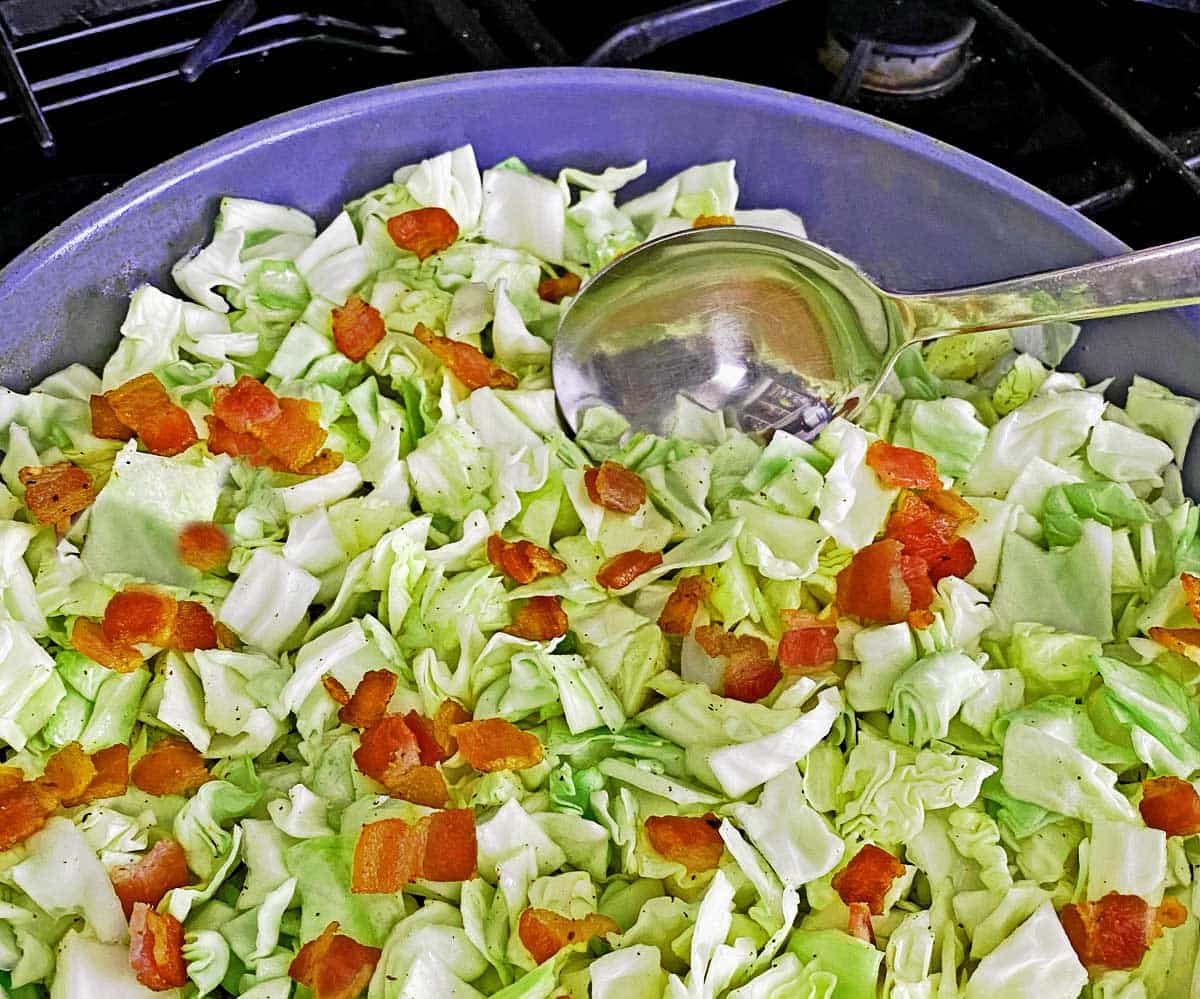 Check seasonings, remove from heat, and serve!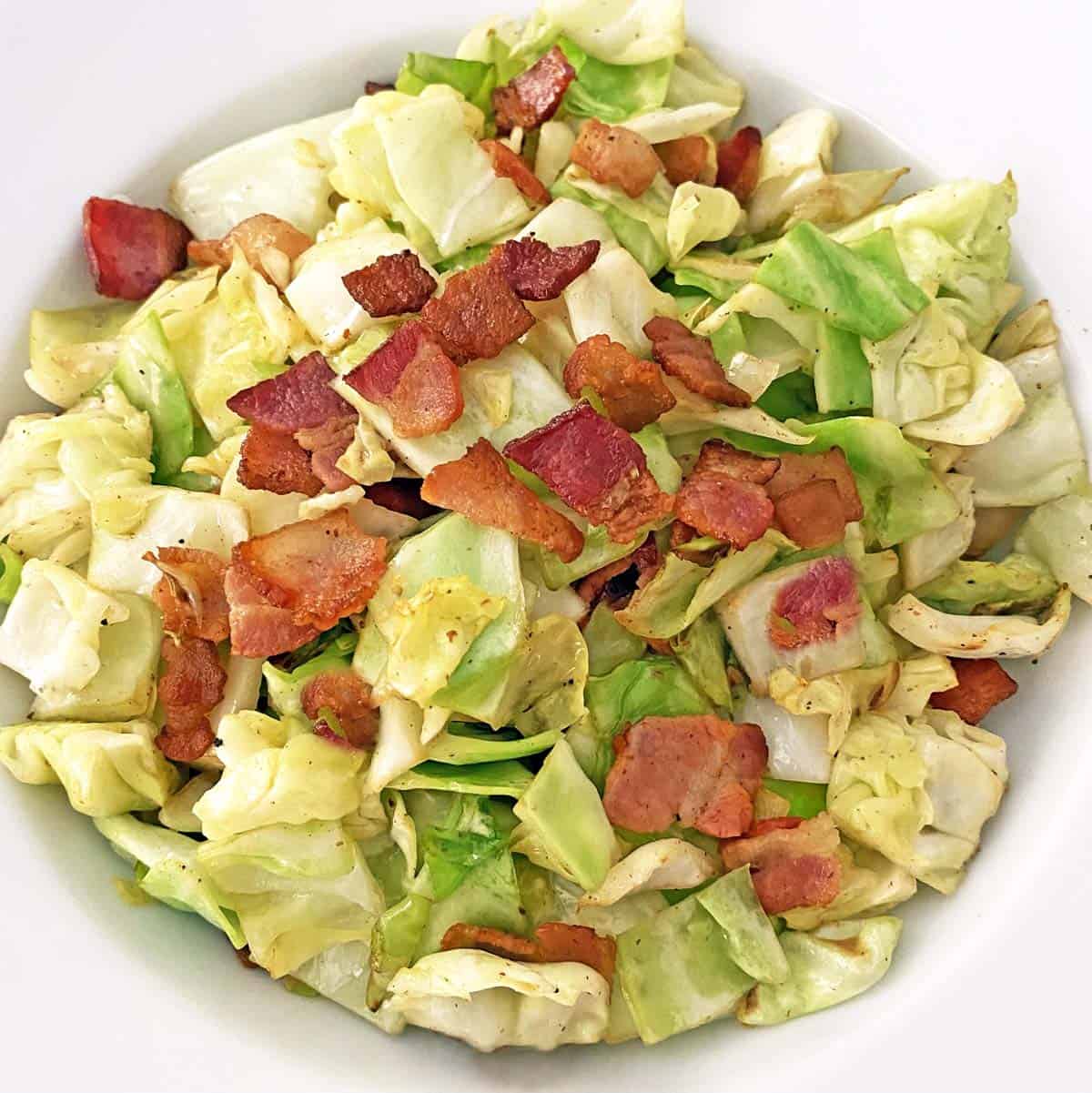 How to Store and Reheat Sautéed Cabbage
To Store: Leftovers may be stored, tightly covered, in the refrigerator for up to 3 days.
To Reheat on the Stove: Transfer the mixture to a large skillet and cook on the stove over medium heat, stirring frequently until hot, about 5 minutes.
To Reheat in the Oven: Preheat the oven to 350 degrees F. Heat the mixture in an ovenproof dish until heated through. The timing will vary depending on your quantity of leftovers and the dish you're using.
To Reheat in the Microwave: Put the leftover cabbage in a microwave safe dish with a lid, and cover. Microwave at full power for 60 seconds, remove lid and stir. Return to the microwave and continue cooking until heated through. The timing will vary depending on your microwave's wattage and the quantity of leftovers.
FAQs
How long does it take cabbage to get tender?
It takes about 6-8 minutes in the hot skillet for the cabbage to become tender while still retaining its bright green color. When perfectly cooked, the cabbage will still be slightly crispy to the bite.
How do you not overcook cabbage?
Our favorite way to insure that the cabbage is perfectly cooked is to taste it frequently! You can also check it visually while cooking it. If the cabbage starts to look limp and a few leaves are getting wilted, pull it off the burner and let it cool for a minute or two before serving.
What to serve with fried cabbage?
Fried cabbage is a wonderful accompaniment to roasted chicken, grilled meats like steaks and pork chops, corned beef and mashed potatoes, and as a tasty side dish on a dinner buffet.
Here's the easy recipe:
Fried Cabbage with Bacon
Tender cabbage is quick-fried with savory bacon for an easy side dish with irresistible flavor!
Ingredients
8

strips thick-sliced bacon

1/2

large head cabbage

1

tablespoon

unsalted butter

2

cloves

garlic

peeled and minced

1/2

teaspoon

salt

1/4

teaspoon

freshly ground black pepper
Instructions
Cut the cabbage in 1-inch slices, and then cut each slice in 1-inch pieces; reserve.

Chop the bacon in 1/2 inch pieces. In a large skillet over medium heat, cook the bacon, stirring occasionally, until it starts to brown, about 8 minutes.

Line a plate with two paper towels. Remove the bacon from the pan with a slotted spoon and drain it on the paper towels.

Pour out the liquid fat from the pan, leaving the bacon drippings in the pan. Return to the stove, add the butter to the pan and heat over medium-high heat until the butter bubbles.

Add the cabbage and bacon cook, stirring often and scraping the bits up from the pan. After 3 minutes, add the garlic to the pan and continue cooking, stirring frequently, until cabbage is crisp-tender, about 3 to 5 more minutes. Season with the salt and pepper.

Remove from heat and serve at once. 4 servings.
Notes
Leftovers may be stored, tightly covered, in the refrigerator for up to 2 days. To reheat, transfer the mixture to a skillet and cook over medium high heat until hot, about 3-4 minutes.
Nutrition
Serving:
1
g
Calories:
140
kcal
Carbohydrates:
2
g
Protein:
8
g
Fat:
11
g
Saturated Fat:
5
g
Polyunsaturated Fat:
6
g
Cholesterol:
30
mg
Sodium:
654
mg
Sugar:
1
g
If you enjoy this recipe for Bacon Fried Cabbage, we'd be thrilled if you clicked the little stars above and gave the recipe a 5-star rating.
Here's our web story for Fried Cabbage and Bacon.
Are you on Pinterest? You can save or share the recipe with this handy pin: