It's easy to cook bacon on the grill, as long as you know a few secrets.
Read our tips for grilling bacon, and enjoy a whole new level of smoky deliciousness!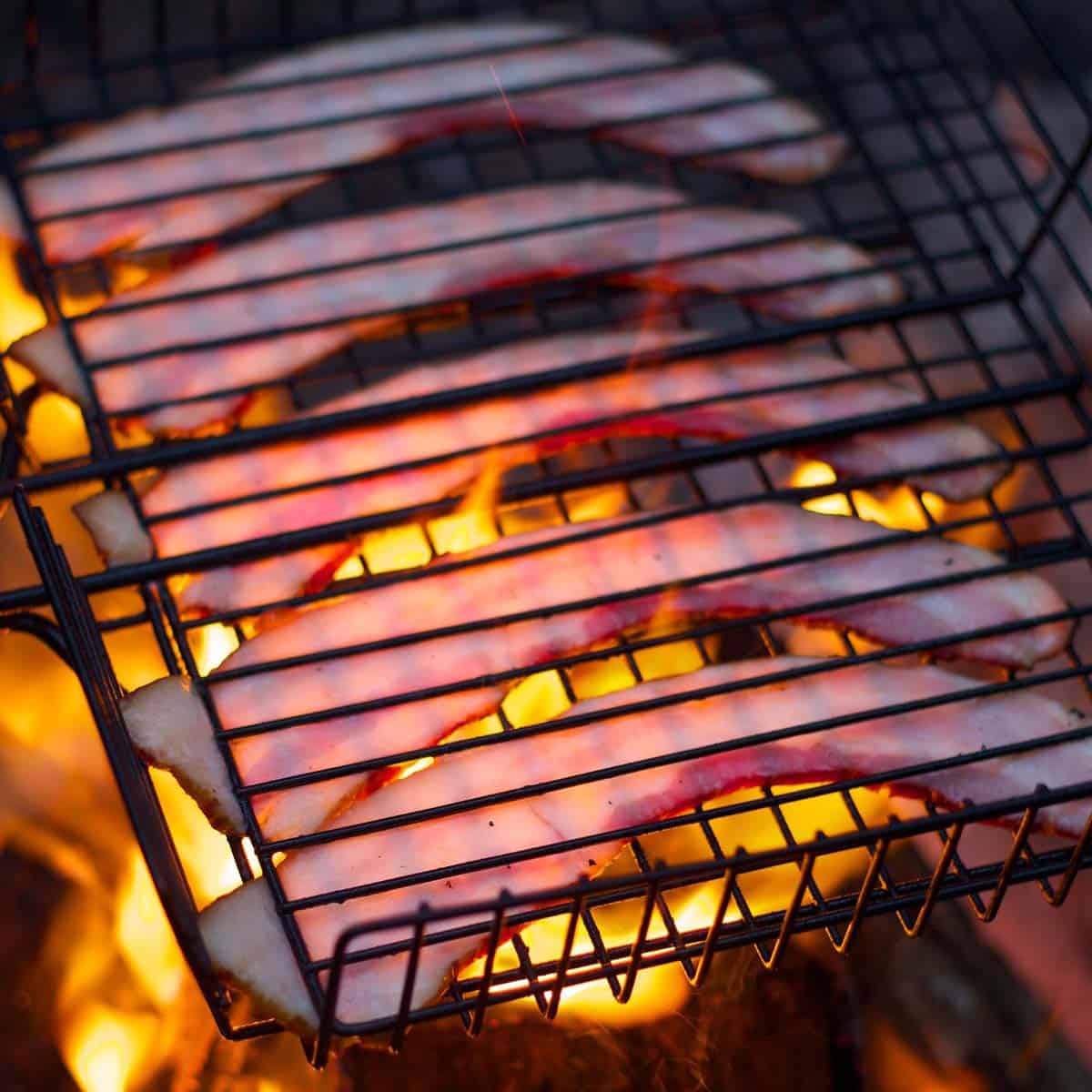 Why You'll Love Cooking Bacon on the Grill
Better Flavor – You'll love the smoky taste of bacon cooked on the grill.
Less Grease – The fat cooks off while grilling, so the bacon never cooks in its own grease.
No Messy Pan – Clean up is a breeze. Just cook and serve!
Best Bacon for Grilling
If you're cooking the bacon over indirect heat, you can use regular, center-cut or thick-sliced bacon.
For direct heat grilling, we recommend a nice, thick-sliced bacon. The savory strips will cook more evenly, and thicker slices are easier to turn and less likely to slip through the grates.
For your reference, a pound of regular sliced bacon will generally contain between 16 and 20 slices.
A pound of thick-sliced bacon will usually have about 12 to 16 strips.
If you have a good butcher (or an uncut slab of artisan or homemade bacon), you can have it cut in even thicker slices that will be ideal for grilling.
Tips for Grilling Bacon
Start with a clean grill, so that your bacon doesn't stick while cooking.
We prefer indirect heat for cooking bacon, as the low-and-slow approach results in more evenly cooked strips.
If you're grilling over lump charcoal, pellets, wood or briquettes, the smoke imparted during cooking will make your bacon taste even better.
If you're using a smoker to cook bacon, its savory flavor pairs especially well with apple, cherry and pecan wood.
Grill Temp for Bacon
For best results we like to heat the grill to a moderate temperature, around 325 degrees F (163 degrees C).
Keep a close eye on the bacon as it can cook quickly. With practice you'll learn the best temperature and timing for your grill.
If you're cooking over charcoal, let the coals die down a bit before cooking the bacon. With a charcoal grill, move the skillet or griddle away from the coals before laying your bacon on it. With a gas grill, turn down the burners to medium-low once you add the bacon.
Helpful Grilling Equipment
A grilling basket with a handle is perfect for cooking thick slices of bacon, and makes it nice and easy to turn the bacon over. Just use an insulated mitt to hold the handle and give it a flip.
If you're cooking a roast or meat wrapped in bacon or covered with a bacon weave, you can use deeper grilling basket as we've shown in this photo. The basket makes it easy to keep the bacon in place on the meat and allows for more even cooking and control.
Disposable aluminum pans are handy for cooking smaller things like jalapeno poppers and bacon-wrapped chicken thighs, making them a great choice for tailgating. A pan will also help contain the fat and juices and reduce smoking and flames. When you're done cooking, just fold up the pan and recycle or discard.
A large cast iron skillet is great for camping, tailgating, and cooking large quantities of bacon for a crowd. This Lodge 17-inch seasoned cast iron skillet has two handles which makes it easier to handle on a hot grill or fire.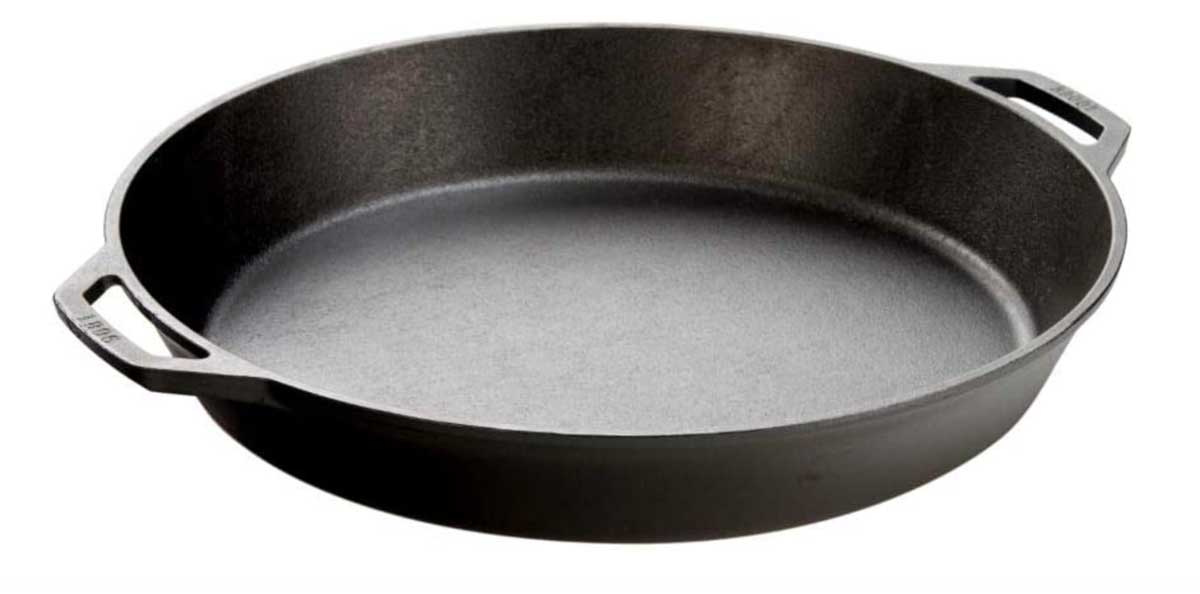 Extra-long tongs are helpful for picking up and maneuvering bacon slices on a grill. Or you might prefer a long handled fork or heatproof spatula.
Campfire Cooking
Cooking bacon over a fire in a cast iron skillet is a time-honored way to cook bacon when camping. (Why does everything taste so much better when it's cooked outside?)
Pro Tip: Be sure to bring heavy oven mitts for moving the pan and a long-handled fork or spatula for flipping the bacon, as the skillet gets very, very hot.
If you're in a hurry, preheat the skillet before adding the bacon and it will cook faster. Otherwise, you can arrange the bacon strips in a cold skillet and heat it over the coals at a more leisurely pace.
Pro Tip: If you pack along an empty resealable can (a coffee can is perfect), you can easily drain off the bacon drippings to use later. (Here's a handy guide about What To Do with Bacon Grease.)
Grilling Bacon Over Direct Heat
If you're going to cook thick-sliced bacon strips directly on the grill, make sure the grill is nice and clean. To keep meaty bacon slices from sticking, brush the grate with a light coating of oil with a high smoke point such as canola oil or grapeseed oil before grilling.
Thick-cut bacon may be placed directly on the oiled grill grate. Watch the bacon very carefully and turn it using tongs or a large metal spatula.Turn the bacon several times until it's nicely browned.
If the flames flare up, put the lid on and close the top vent halfway. Alternately, you can move the bacon to an area of the grill that's not quite as hot.
Another technique is to thread bacon on a metal skewer, going under and over the strip every inch and a half or so, to secure the bacon for grilling.
If you want to use bamboo skewers instead, soak them in water for an hour first to prevent the skewers from burning during cooking. (You might also be interested in these oven-baked bacon skewers.)
Serve your delicious direct cooked grilled bacon nice and hot, and enjoy the fact that you don't have to clean up any grease!
If you use Pinterest to save and share ideas, here's a handy pin!
Note: This article was updated on September 9, 2021. It was originally posted on February 23, 2021.
Photos used with permission: Ted Murphy, grill image; Rex Roof, bacon slice; Crosa, grill basket; Greg Hayter, skillet image.