Now you can get the fun look of pan-fried wavy bacon with this simple trick! It's super easy, the bacon cooks evenly, and you'll get curly bacon that looks great on the plate!
One of our favorite ways to cook bacon is baking it in the oven. The only downside is that baked bacon tends to stay very flat. Flat bacon is perfect if you're making a sandwich, but sometimes you want curly, wavy bacon to pile on a tray for a party or a brunch buffet.
Here's how to make groovy, squiggly bacon that looks great and tastes even better:
Oven-Cooked Wavy Bacon
Preheat the oven to 350 degrees F (180 C) and line a baking pan with foil. Tear off a sheet of foil about 3 inches longer than the long edge of the baking sheet and cut it in 3 long strips. Use your hands to gently crush and shape the strips to make three long snakes, like this:
Now lay the bacon on the pan, shaping the bacon gently around the foil pieces. It's easiest if you use one bacon slice on each end to anchor the foil.
Now you can arrange the rest of the bacon slices on the pan.
Pop the pan in the preheated oven and bake it. Your baking time will depend on the thickness of your bacon. Regular sliced bacon should be done in 15 to 20 minutes.
Here in the BENSA test kitchen, we used Wright's thick-sliced hickory smoked bacon:
Our baking time was about 28 minutes. Here's how it looked in the pan:
Peek on the bacon about halfway through cooking. If the ends of your bacon strips are starting to overcook, just cover them with a strip of foil to prevent over-browning. Your bacon will be perfect!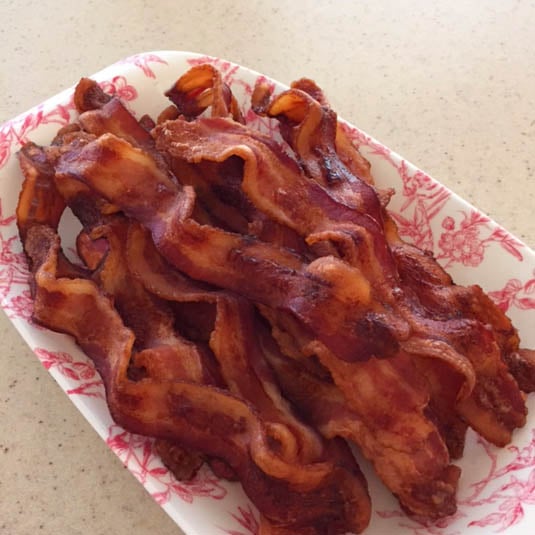 Are you on Pinterest? You can share or save the recipe with this pin: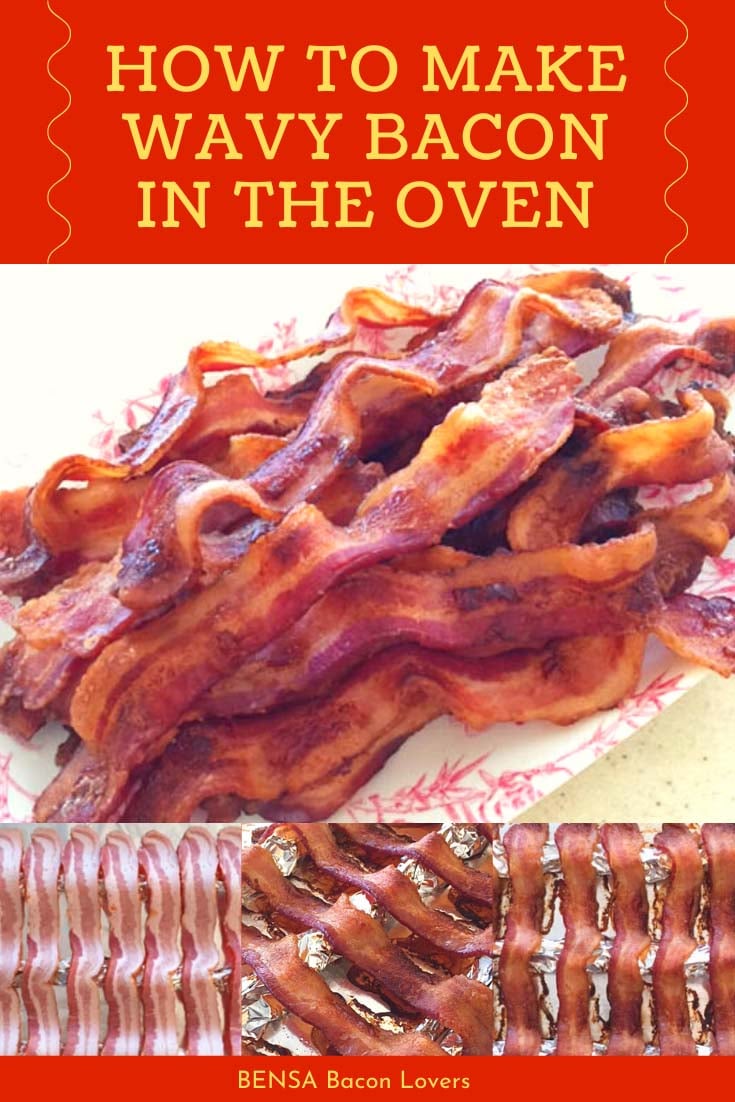 Let's keep this party going! BENSA would love to connect with you on social media:

We love seeing your bacon culinary creations! If you prepare this recipe and post a photo, tag us on Instagram at @bensabaconlovers or use the #BensaBaconLovers hashtag.
If you prepare Wavy Bacon, we'd love to hear what you think in the comments section of this post!
Enjoy,
Your friends at BENSA